Christmas encompasses many different practices, traditions & meanings for people around the world. Having been celebrated all the way back in Ancient Rome, the most wonderful time of the year is still celebrated today by billions of people in hundreds of different countries globally. 
Our seasonal Christmas Around the World Christmas Reading Pack, suitable for KS2+, helps pupils explore & understand new cultures/traditions surrounding Christmas, simultaneously boosting comprehension & reading skills.
But, before you scroll down to the bottom of the pack to claim your free pack, be sure to read the whole post to learn about other global Christmas traditions from around the world. Feel free to share with your class or pupils!
1. Netherlands- Children leave shoes out for Saint Nicholas
Also known as Sinterklass, Saint Nicholas was a religious figure who lived in the third century, who is thought to be the inspiration for Father Christmas. Noted for his charity & kindness, one-story details how Saint Nicholas dropped a purse of coins down the chimney into the house so that a family would be able to help their daughter marry. The purse fell into a stocking, put by the fire to dry. Today, Dutch children leave a shoe out and sing Sinterklass songs. If they've been good, they will be left presents to reward them. However, if they've been naughty, Sinterklass will leave them pieces of coal instead!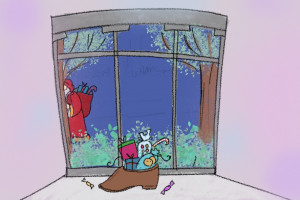 2. Brazil & Portugal-  Christmas Day dinner on Christmas Eve
Instead of tucking into a Christmas feast on 25th December, families in Portugal & Brazil get together at around 10 pm on Christmas Eve to begin the celebrations together. Known as Misa do Galo (Rooster Mass), families, friends & neighbours celebrate together to welcome the holiday season. Fireworks are often lit, and people attend Midnight Mass not ending until the early hours of Christmas morning. Favourite Christmas foods include pork, turkey, ham, salads and fresh/dried fruits. Everything is served with rice cooked with raises and farofa (Seasoned manioc flour).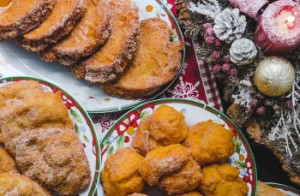 Nativity scenes are also incredibly popular, named Presépio. Brazilian and Portuguese families often handmake them and place them on display even before decorating their homes with Christmas decorations. They remain on display until February 2nd, where they are dismantled during the Festival of Stars.
3. The Philippines- Christmas lanterns instead of the traditional fairy lights
Taking Christmas lights to a whole new level, the famed Giant Lantern Festival which takes place in San Fernando lights up the city from mid-December to the start of January. Called Ligligan Parul, the festival is a competition hosted since 1931, the lanterns are giant versions of paróls, a traditional Filipino star-shaped Christmas lantern. The lanterns are controlled by switches, often timed to traditional brass band music. The lanterns are around 20 feet and can be illuminated by up to 10,000 light bulbs.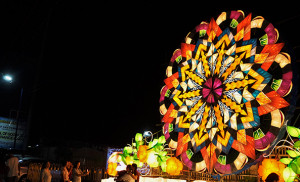 On a much smaller scale, people also light more traditional paróls, done out of a more traditional Christian religious observance. They represent the star of Bethlehem and is traditionally made out of bamboo and paper. The lanterns remain lit until January, to honour the journey of the Three Kings and their visit to Baby Jesus.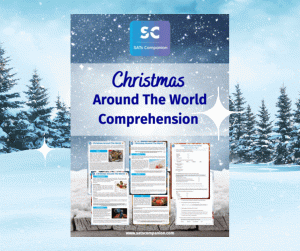 Haven't signed up to SATs Companion?
Our team is available throughout the week for free in-depth demos of the platform.  Click here to book your free place today, and discover how SATs Companion can transform your teaching
We hope SATs Companion helps strengthen your class's progress through all stages of KS2.
Want to find out more about how SATs Companion can help improve pupils' learning? Click on the blue icon to contact our team with any questions or try here to book your free in-depth demo.