New Teaching Feature: End of unit tests
We know how crucial catch-up and intervention is right now. As requested by teachers, our latest feature for the platform is new KS2 end of topic tests, perfect to boost your school's learning.
How will this benefit my class/school?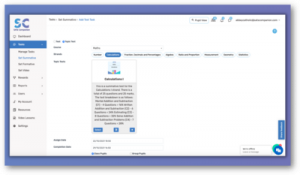 Our ready-made topic tests provide you with instant assessments on a topic level, providing a broad and uncomplicated review of pupil progress. All topic tests are aligned to the National Curriculum, ensuring every key KS2 topic is covered.
Doesn't more tests mean more marking?
Similar to how normal questions are checked, the platform uses its real-time feedback features to provide instant marking for pupils at the end of each unit. Ideally, this will not increase your marking admin but will instead provide you with an overview of where your class or specific pupils are with specific topics.
What ways can I use this in class?
The topic tests are ready-made, and can be adapted for a multitude of teaching & learning needs, including but not limited to:
End of topic/unit tests
Scheduled check-in for pupil progress
SATs and primary assessment preparation
Establishing a topic-based baseline 
Identifying gaps for a domain
Will my school need to pay to access this new feature?
The topic tests are a key enhancement to the SATs Companion platform and do not require additional payment to access. It is available as part of your subscription.
What else do I need to know?
The topic tests cover all foundational topics through Maths and GPS. Using instant feedback, the platform increases pupil analysis without adding to your daily workload.
Where do I go for more information?
Need a helping hand before getting started?
If you already have a SATs Companion membership, we offer free webinars for a more guided overview of specific aspects of the platforms. Alternatively, click here to log in and access your account.
Haven't signed up to SATs Companion yet?
Our team is available throughout the week for free in-depth demos of the platform.  Click here to book your free place today, and discover how SATs Companion can transform your teaching.
We hope SATs Companion helps strengthen your class's progress through all stages of KS2.
Want to find out more about how SATs Companion can help improve pupils' learning? Click on the blue icon to contact our team with any questions or try here to book your free in-depth demo.